I have a listening problem (the downloads work correctly).
I understand that sites periodically change the algorithms of work. I just notify you that something is wrong.
If you start plays increaser, the program writes that url are played, but the statistics on the link does not change.
Before: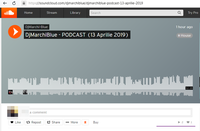 After 50 plays statistics has not changed.
Here is the link
, see for yourself. But the program says it successfully completed the plays.